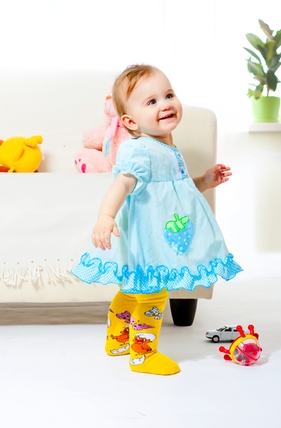 You're a single mom. That means, in the most simple of terms, you are watching every dollar. If you're not fortunate enough to have help from friends or relatives, you are pinching every penny. Either way, you're not alone. According to Buzzle.com, there are almost 14 million single parents in the U.S., 84 percent of which are mothers and more than one-third have never been married.
The fact is, your baby is now your roommate. So, what are some cheap ways to give your adorable new "roomie" the best environment possible on a very tight budget? We've found some practical and creative ideas to help you create a child-friendly apartment.
(Almost) Never Buy New
Moms with multiple children understand how fast expenses can pile up with each successive child. It's likely that you will want to give your first baby the best of everything, but the reality is that the temptation to buy expensive products eases with the second child. Understanding this now with your first baby can help save a lot of money.
Online classifieds, yard and garage sales, secondhand stores, and friends and relatives are great resources for gently used items; including changing tables, bathtubs and baby room décor. Some items should be purchased new, but much can be bought used.
If you have a young child, buy dark window shades or blinds at Blinds.com, or your local store, because they are important for a good night's sleep. Keep a shopping list that includes window sizes, in case you get lucky enough to find these used.
If you haven't been already astounded by the growth of your child, you will be. It's why used clothing makes the most sense.
Think Outside the Box
Thinking outside the box means not just looking at what a used piece of furniture is, but what it can become.
Paint inexpensive adult furniture in bright colors.
A dresser and a changing pad can be combined for a makeshift changing table.
A worn coffee table doubles as a comfy ottoman, with the addition of a pillow.
Check with your local home improvement store. Many times they offer deep discounts on custom-colored wall paints that have been returned. You may just find some fun, baby-friendly hues.
Safety First
When furnishing an apartment with an infant roommate, always take the child's safety into account. Items like cribs and car seats have ever-increasing safety standards — these you should consider purchasing new. Use your newly acquired motherly instincts to guide you. What potential hazards are there? Where are the pointy edges, electrical outlets and unlocked cabinets? Are those cords for blinds or window shades in reach? Think like an inquisitive child and you'll babyproof your new pad in no time.
A Roommate To Adore
With your baby as your roommate, approaching life from a creative, can-do frame of mind can be empowering and help you stick to your budget. Remember, your current living situation may not last forever, but your child will always be your child.